Thursday, May 9, 2019 / by Juan Grimaldo
Plans call for hiring at least 700 more to help develop software products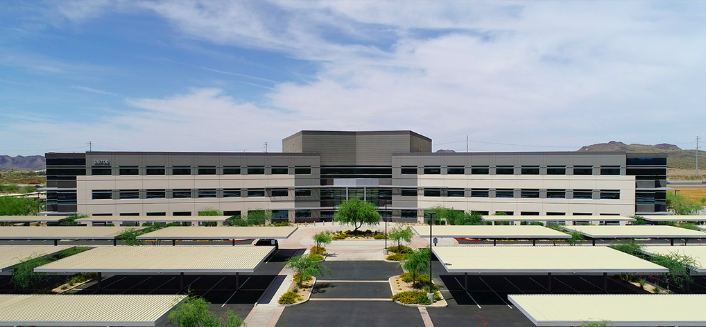 (Image: Provided by Bradley Russel)
USAA opened its 140,000-square-foot office in north Phoenix and plans to hire about 1,100 IT developers.



USAA opened its new office Friday with room to employ about 1,100 workers focused primarily on IT developers.
Greg DeBernard, regional vice president for USAA, said the company has so far hired about 350 developers, who will move into the new building in north Phoenix near Interstate 17 and Happy Valley Road. The company has a goal of hiring 1,000 new employees by 2020.
The company already employs about 4,500 people at its north Phoenix campus, just across Norterra Parkway from the new technology and digital office.
The San Antonio-based insurance, banking, investment and retirement products company is hiring developers to work on a variety of digital products for USAA's various offerings, including webpage and app development, DeBernard said.
"User interface is very important to us," he said.
USAA is seeking qualified developers for the new office. It has partnered with Galvanize Inc. to hire people who have completed training programs at the downtown Phoenix location as well as the coding school's other sites, DeBernard said.
The company will host a career fair at the new office building, 25700 Norterra Parkway, from 7:30 to 10:30 a.m. May 11. For more information, visit https://careerconnectors.org/usaa/.


By Corina Vanek – Reporter, Phoenix Business Journal